Click on the "Forms" tab to view our 2014
Spring Class Schedule!
We are now accepting Registration! Call Today!
OPEN GYM NIGHTS:
Every Friday from 7-9pm
Obstacle Course, Todd;er Area, Spring Floor, Tumbling, Gymnastics, Tumble Track, Air Track, Inflatables, Music, and more!
Members: $5 Non-Members: $8
CLICK HERE to visit the Universal Athletics Facebook Page
Sign up for classes today by email at premierecheer@yahoo.com or call our office at 1-270-759-4787.
FREE Open CHEER Nights!
Thursday, April 17th 5-7pm
Friday, April 18th 5-7pm
Thursday, April 24th 5-7pm
Friday, April 25th 5-7pm
UKC CHEER TRYOUT CLINICS
Monday, April 28th (12 and older) 6-8pm
Tuesday, April 29th (5 and under) 4-5pm
Wednesday, April 30th (6-11 years old) 4-6pm
Thursday, May 1st (All ages) 4-6pm
The Inflatable Fun Factory is Open for play
Monday-Thursday from 4:00-7:00pm.
$5 per person/per visit.
The Inflatables will be exclusive to scheduled parties on Friday, Saturday, and Sunday.
To schedule your exclusive party for any occassion please call 1-270-759-4787.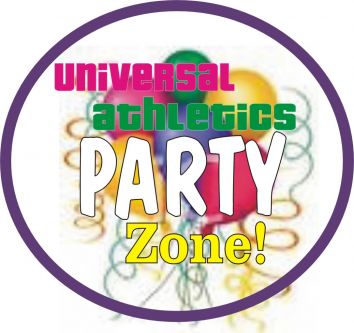 To view Inflatable Fun Factory information or
Birthday Party pricing please click on the "General Info" tab.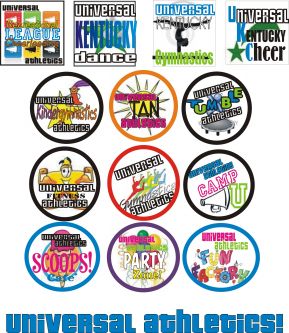 Universal Athletics offers the following programs and services:

Competitive All-Star Cheer/Dance/Gymnastics Teams
Recreational Tumbling or Gymnastics Classes
Kindergymnastics Age 3-6
Parent and Tot Classes Age 1-3
Mommy's Day Out Program Age 1-5
Recreational League Cheerleading Program
School Cheer Practice Area & Squad Tumbling
Camp Universal Cheer and Dance Clinics
Tanning
Workout facility
Daily Inflatable Fun Zone
Gym-SNACKS-tix Cafe
Birthday Parties

FUN FOR THE ENTIRE FAMILY!
Register now for classes in gymnastics, kindergym, kinderbear, parent and tot, and tumbling! Book your birthday parties now! Tanning packages are available! We have a fully stocked pro-shop with leotards, cheer gear, and speciality items! All your fun begins here at The Fun Factory. Come jump, play, and bounce with us! Need to a break from all the action...Grab a snack and cold beverage in our Gym-SNACKS-Tix Cafe'.

Universal Athletics is 24,000 sq ft of fun and fitness. It is the 2nd largest cheer/gymnastics facility in KY. Check out below to see all the exciting features.

Seperate Areas designed exclusively for each program
54' X 42' competition size spring floor
42' X 42' Spring floor
New state of the art Kindergym area
60' Tumble Trak
30' Air Trak
3 regulation balance beams
2 sets of uneven bars
Vault runway with table top vault and resipit landing area
Gym-SNACKS-tix Cafe'
Tanning beds
Workout Room with treadmills, ellipticals, and more
Birthday party room
Dance studio
Inflatable Fun Zone
Over 120 paved parking spots
Bleacher seating
Free wi-fi
Lobby area with flat screen tv
and so much more!!!